We will be closed Monday 8 March for Labour Day
The Department of Health and Human Services is working closely with the Victorian health sector, Commonwealth and international agencies to respond appropriately to the outbreak of COVID-19.
If you suspect you have COVID-19 call the dedicated Hotline on 1800 675 398 for advice. If you are really unwell, call 000 or attend your nearest Emergency Department.
WFM patients, we would like to express our appreciation for your patience shown at this difficult time. As such we request that you comply with the following when visiting our clinic for the protection of other patients, our admin staff, nurse and doctors:
Only patients with an appointment to attend the clinic, that is, please do not bring your children, or other family members or friends into the clinic with you unless a carer.
If you have flu like symptoms advise reception staff when making your appointment. They will instruct you further as to our procedure to protect others from close contact when you arrive.
Payment is preferred by card. For private patients or those that are paying for procedures, if you do not have a plastic card will email or send you an invoice with our bank details.
Phone consults are available by booking online and are only available for current patients.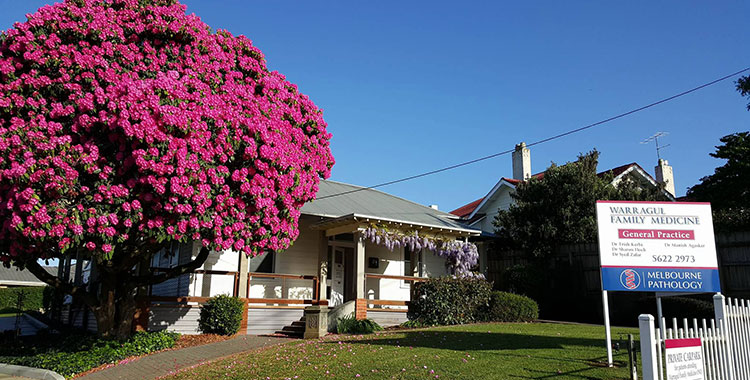 Warragul Family Medicine
At Warragul Family Medicine we believe that patients come first, and continuity of care is of the utmost importance
Appointments
Please ring (03) 5622 2973
for an appointment after
9am Monday – Saturday
Fees and Billings
We accept cash, EFTPOS and most major Credit Cards
Selective bulk billing
Our Doctors
The doctors of this clinic are Vocationally Registered. Our aim is to provide comprehensive, up to date care of the highest standard.
PRACTICE PHILOSOPHY
Our aim is to give our patients the highest possible quality of care, by ensuring excellence in all aspects of our practice. We endeavour to provide patients with the best and most current treatments, methods, materials and equipment within our resource capabilities to ensure that the patients receive the high quality of service they have come to expect. We believe that patients come first. Teamwork is highly valued and encouraged within the practice to promote a harmonious and productive environment. We hold great importance in ethical and responsible behaviour as essential to maintain the trust and loyalty of our patients and staff.

ONSITE – MELBOURNE PATHOLOGY
Opening Hours: Monday to Friday 8:30am to 1:00pm